Titanium eyeglasses offer wearers many benefits. They're thinner, lighter and stronger than other materials, while also being resistant to blemishes or corrosion. But, they're not invincible! All it takes is one ambitious toddler or one time sitting on them to snap them in half.
If you need titanium eyeglass repair in Palm Desert, Coachella Valley, Palm Springs, Indio, or Cathedral City, CA, you can't go just anywhere to get it. Titanium frame repair requires a special laser welding machine that few vision stores or optometrists have. Most places will send your glasses out for repairs. Not Expert Repairs! We have the right equipment to repair your titanium frames, so you can continue to enjoy them.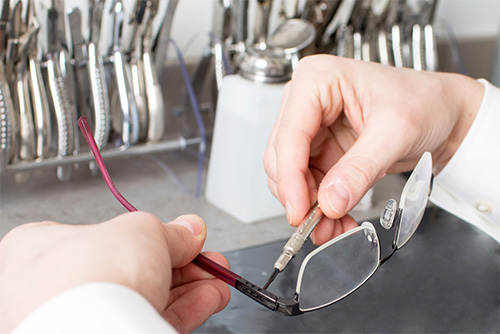 Our Equipment
Expert Repairs has state-of-the-art equipment, capable of repairing titanium frames in a pinch. Our laser welding machine uses an Argon gas shield, allowing us to make precision welding repairs without affecting other parts of your frames. We weld the damage and nothing else.
Our Commitment to Quality
Our team has exceptional experience when it comes to titanium eyeglass frame repair in Palm Desert, CA. We've repaired titanium accessories of all types throughout the years—eyeglasses included! To that end, we deliver the very best results. You won't find blemishes or welding spots when we're done. Instead, enjoy clean, pristine, polished titanium frames. We guarantee they'll look great and feel right while you're wearing them.
Get Titanium Frame Repair
Don't let your investment in titanium eyeglass frames go to waste because of an accident. Bring them to Expert Repairs and let us put them back together again! Using precision argon laser welding and years of practice, we'll restore your frames on-site, fast. No sending them out!
Visit us today with your broken titanium frames or give us a call at 760-776-0800 if you have questions about our titanium eyeglass, watch, or clock repair to restore your accessories. We're happy to answer questions about the welding process.
Contact Us Today