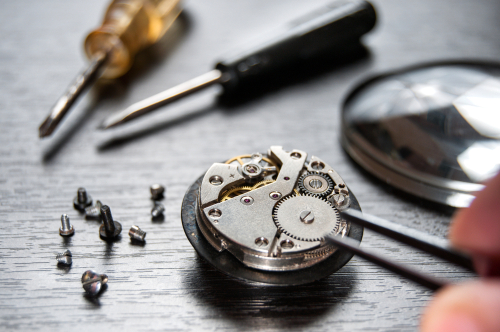 Whether you wear your watch as a fashion accessory or use it frequently to check the time, it's important that it's always ticking away smoothly. If it stops or is damaged, you get no value from wearing it. Thankfully, Expert Repairs can provide the specific watch repair in Palm Desert, Coachella Valley, Palm Springs, Indio, and Cathedral City, CA your timepiece needs to function flawlessly, no matter what brand or style of watch it might be.
Total Timepiece Repairs
We deal with all sorts of damages—from cracked faces and broken bands, to dead batteries and loose diamonds. Our abilities encompass some of the industry's best-known brands from both men's and women's fashions, including Seiko, Citizen, Bulova and, of course, Rolex. In fact, we're one of the most trusted local watch repair destinations thanks to our ability to provide in-house repairs on all of these leading name brands.
In-House Service
Because we perform all repairs in-house in Palm Desert, CA, you can rest assured your timepiece is getting the precision service and careful attention it demands. Depending on the nature of the repairs or the type of watch you bring us, repairs can take anywhere from a couple of days to a week—shorter if you just need a battery changed!
Thorough Service
Owner Joseph is a European-trained watch repairman, which means our shop has an extensive background in the inner workings of your timepiece. This allows us to deliver thorough, precision services of the highest caliber. Whether your watch is functionally damaged or has failed for unknown reasons, count on us to breathe new life into it.
Give us a call today at 760-776-0800 to learn more about how we can assist you with our clock, jewelry, and watch repair services, or stop into our shop today in the Westfield Palm Desert mall.